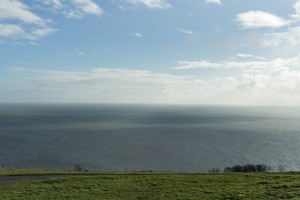 Our trip to Eastbourne was a very exciting and interesting experience.
On the first day we had the town rally. In small groups (there were four different sheets with different tasks) we had to ask and talk to people to get the answers and we also had to find places in Eastbourne. This took quite some time but we had all day and could go our own ways. Some of us kept on exploring the town centre while others went shopping at the shopping centre or played board games in the lounge of the hotel. For many of us the cooked English breakfast was something new with many other things to order besides the cereal buffet and toast. Every evening the menu offered three starters, three main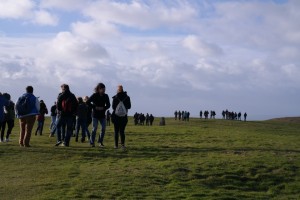 courses and a choice of desserts. They also had vegetarian food. The waiters were friendly and we enjoyed talking to them.
The following day we had the project day. Everybody could choose between five of them: a visit of a traditional private boarding school near Hastings, a guided tour of a local college in Eastbourne (where an excellent lunch was served by students of that college), lots of fun and interesting discussions with the WWII generation at a "five-star" sheltered accommodation (the residents have their own flats but can enjoy the restaurant and lots of activities, for example us! Chatting to German youngsters), an interesting talk with the wife of a former chairman of the Wimbledon Tennis Championships, an exclusive talk with the owners of the hotel about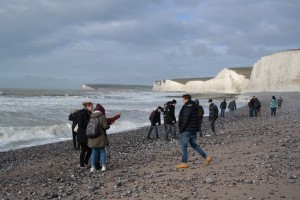 their successful immigration to the UK from Lebanon via South Africa and last but not least the small group of us buying books for the "Eastbourne library" in our school. As all projects took place in the morning we had again the afternoon for ourselves.
Thursday we went to the famous seaside resort of Brighton. On our way along the coast we had gorgeous views from the bus windows of our double-decker coach. We stopped for a short walk to Beachy Head (a "popular" cliff in Great Britain for films and some people ending their lives …). Another photo stop was at Birling Gap where you can see the spectacular coast of the Seven Sisters. Brighton welcomed us with sunshine although it was quite windy. Some of us went to a "Harry Ramsden's" restaurant, a British institution for fish & chips dec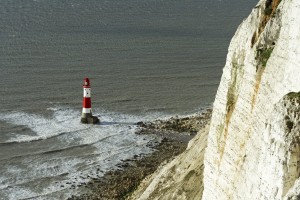 orated in the style of the 1920s. Others followed our teachers who wanted to have afternoon tea in a very cosy traditional tea room. Of course Brighton Pier was another attraction and again there were many shops … That night it was disco night in the restaurant after our prefects had awarded the winners of the Eastbourne quest. Three groups won prizes for their excellent results and were given presents. Our trip back through the channel tunnel was quick and we could sleep a lot while Erich was driving through Belgium. Back in Rodgau we were happy after a week of some language practice and lots of fun and interesting experiences. A few of us already would like to be prefects for Eastbourne 2016.
Written by Jonas Walter and Philipp Fortmann